Comba Telecom Announces CriticalPoint™ UHF Fiber DAS Solution to Their Public Safety Product Portfolio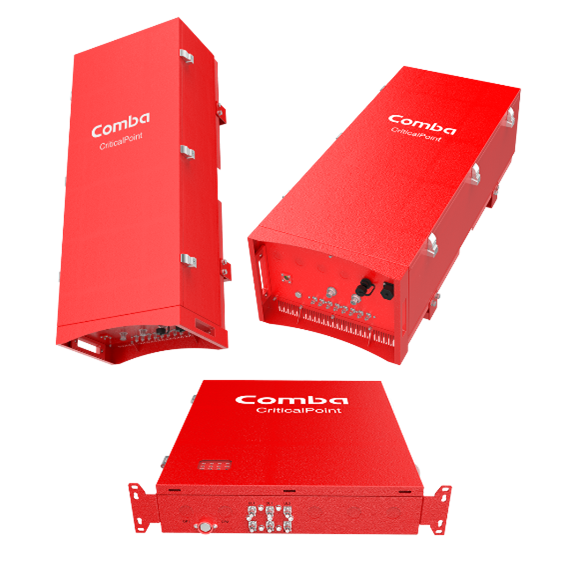 (August 28, 2021 – Milpitas, CA) – Comba Telecom, Inc. a global leading wireless solutions provider, announced the addition of their CriticalPoint™ UHF Fiber DAS to their broad portfolio of in-building public safety communications equipment to provide mission-critical in-building communications for first responders for large venues, greater than 400,000sqft. or multiple buildings that a single BDA can't cover.

The CriticalPoint UHF Fiber DAS solution supports UHF frequencies from 450-512MHz, and is comprised of a single Master Unit (MU) that can support multiple Remote Units (RU) via Fiber Expansion Units (FEU) to provide coverage for a wide range of coverage area sizes. A single MU can support up to 32 RUs, which can provide coverage of 10,000,000+ square feet – or with a smaller number of RUs, can provide coverage for as small as 300,000 to 400,000 square feet. Depending on the FEU used, additional RUs can be added in groups of 1-4 or 1-8 devices. The MU can also be used as a conventional BDA to provide coverage for up to 400,000 square feet.; if additional coverage is required in the future, RUs can be added to increase the coverage area as needed.

Each RU has 2W of downlink power (with internal duplexing) and is available in either Class A or Class B configurations. Other key features include:
Supports P25 P1/P2, digital and conventional analog communications simultaneously

Simplex and internal duplexing up to 3 window passband supported

Up to 32 narrow band filters (Class A)

Up to 4 wideband filters (Class B)

Channelized Auto Level Control (ALC) supported (Class A)

Channelized uplink squelch supported (Class A)

Available in AC and DC

Supports redundancy system

UL50E Type 4 / NEMA 4 enclosure

NFPA compliant / UL2524 Standard Certified
"We are excited to be announcing our UHF Fiber DAS," says Steven Cheng, Comba's Public Safety Product Manager. "Even though UHF is considered a legacy frequency, it is still much in use throughout the Country and by providing this solution we will help ensure the mission-critical communications with first responders gets through."

About Comba Telecom Inc.
Comba Telecom, Inc., based in Milpitas, California, is a leading supplier of RF communications solutions and equipment to the wireless industry. With R&D innovating in the heart of Silicon Valley and a manufacturing base in Asia, Comba Telecom manufactures cutting edge technologies and cost-effective solutions for OEM, integration, and operator partners.

All company and/or product names may be trade names, trademarks and/or registered trademarks of the respective owners with which they are associated. Features, pricing, availability, and specifications are subject to change without notice.

Media Contacts:
Ryan Workman
Marketing Specialist
Comba Telecom, Inc.
This email address is being protected from spambots. You need JavaScript enabled to view it.
Comba Telecom Inc.
568 Gibraltar Drive. Milpitas, CA 95035
Copyright © 2021 Comba Telecom, Inc. All rights reserved.